Behind The Oar: Cross-training like a champion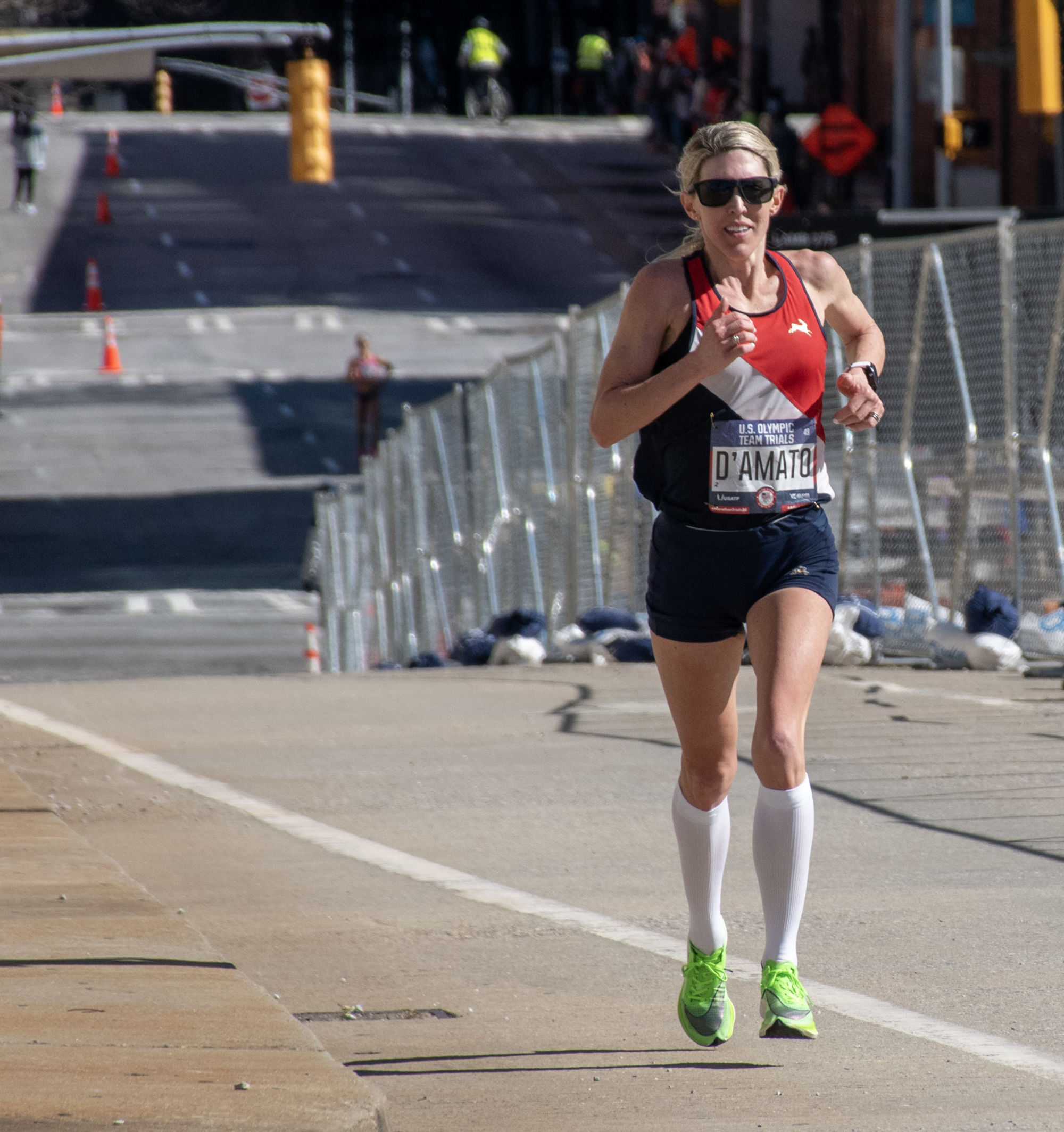 For Keira D'Amato, it seemed like her time as a competitive athlete had ended over ten years ago. 
"I ran in college and after college. In my first career as a runner, I had a lot of goals that I never quite reached because I developed an injury... so I had to pull the plug," she recalls.
Just like that, her running dream was over, or so it seemed. Over the next ten years, D'Amato got married and started a family. Then, when she decided to get back in shape, a determination in her was reignited.
She began running. A lot. Fast-forward to February 2020, and at 36 years old D'Amato placed 15th at the USA Olympic marathon trials. She also recently posted one of the top ten fastest U.S. half-marathon times ever. 
She uses Hydrow to cross-train effectively and sat down with Lead Athlete Dani Hansen to talk about staying healthy, Olympic-sized goals, and getting the whole family on board.
Reigniting a long-lost passion
D'Amato notes that, upon returning to running to get back in shape, the familiarity awakened what she refers to as "unfinished business."
"All those competitive juices started kicking back in. I decided to do some marathons, and began working my way up from there. It's kinda funny, my husband was a runner, and one by one I'm slowly beating all his personal records from years ago!" She laughs.
"I qualified for the Olympic marathon trials, which were held in February. I finished 15th overall. I also qualified for Team USA for the half marathon, which unfortunately was kind of messed up due to COVID. But I'm still on the track training to compete at the Olympic trials next June and July to hopefully make an Olympic team."
Trading miles for metres
When it comes to running at a competitive level, there's only so much training you can do because the repetitive nature of a sustained high volume of running makes you more susceptible to injury.
"Running is a very high-impact sport. It's really hard on your body, and there are lots of different overuse injuries you can get," D'Amato notes. "I already run over 100 miles a week, so my coach and I were looking for other ways to supplement my training. We needed low impact, cardio activity that was fun, that I would like to do. The more fun you can have while exercising, the more likely you're going to do it."
Hydrow has a library of hundreds of workouts both on and off the rower; the variety gives D'Amato the cross-training she needs to stay in tip-top shape. She also loves how rowing can get the job done whenever you're craving a quick sweat session, since rowing engages 86% of your muscles. 
"I have to run like 10 miles to get that kind of burn without injury... meanwhile, I can be on a rower for five minutes and be so thoroughly exhausted!" She laughs. "The ability to cram all that awesomeness into a 10, 15, 20 minute session is really great."
What D'Amato also likes about Hydrow is that it keeps her humble. As one of the top runners in the country, she enjoys how the competitive energy needed for her running goals can carry over to the rower in a different, healthy way. 
"It's been a really healthy, humbling experience. It still kicks in my competitive nature, having the leaderboard and everything. I find if I ever row intervals, when everyone takes a break, my marathon runner brain kicks in and I tell myself 'I'm going to push hard through this too,'" she laughs. "Which is totally not the purpose of intervals! But I'm just so darn competitive that that's how I can make up ground because I'm always behind other people on the leaderboard."
All in the family
For D'Amato, rowing has become an experience for the whole family.
"I've been having so much fun with the whole user interface and how you can create teams! My husband and now some of our cousins that have a Hydrow, we all have teams, we all compete and we can share workouts. There's a community involvement I was not expecting at all out of this experience, and that's been great."
She also notes that Hydrow has been both a solution for squeezing workouts into a busy lifestyle and a good example for her children.
"It's very convenient to have a rower in your house when life gets busy. Since my husband works at a typical 8-to-6 job, attending a class can be a scheduling challenge. With a rower in our home, he can get up and just hop on."
"My son now, he's five. He's such a big fan of that father/son time, and he's also a very early riser. He wakes up, he runs down the stairs, he runs into our pitch black room at like 5:00 AM and says, 'Dad, get up. It's time to row.' So they go down together, and my son will stretch or watch his Kindle and hang out with his dad while he's on the rower."
Most Olympic hopefuls relocate their lives and make their sport #1 in their life. For D'Amato, though, it's about balance and making it all work.
"I feel like I'm doing this my way. I'm a mom. I'm a realtor. I don't live at an Olympic training center or train with a big group of people, but I'm finding my way."
Whether you're pursuing an Olympic-sized fitness goal or just want to move around and take better care of yourself with a like-minded community, Hydrow has something that will fit your needs. 
Follow Keira's quest to make it to the Olympics here, and follow Keira on Hydrow @KeiraD'.