Meet the Crew: Introducing Aquil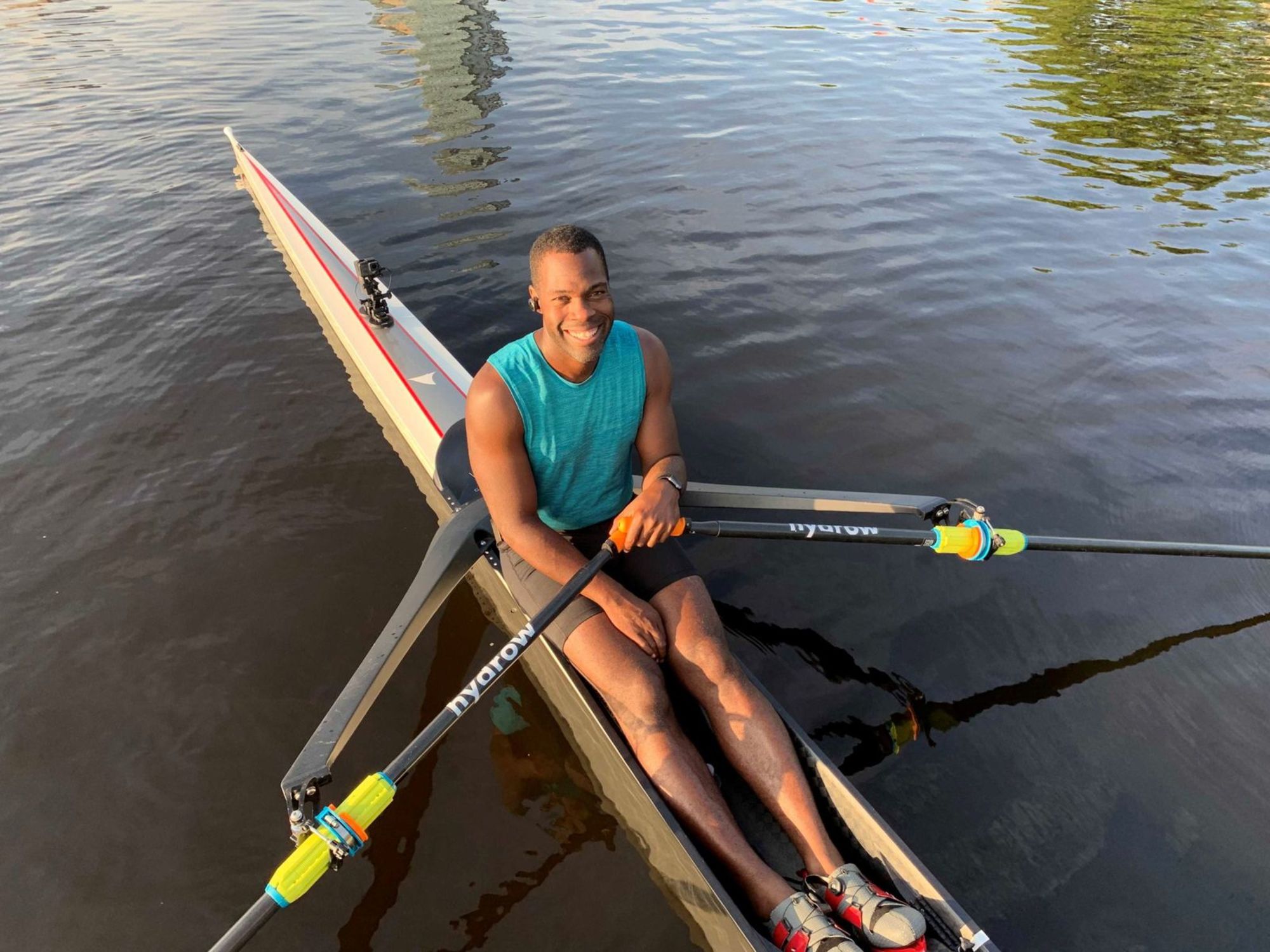 Welcome to another episode of Meet the Crew! This week, we're highlighting Hydrow Athlete Aquil Abdullah.
What was your path to discovering rowing?
I started out playing lots of sports as a kid, but ended up focusing on American football through high school. I applied for American football scholarships to colleges, but realised that I didn't want to pursue it at the collegiate level. A few of my friends were on my high school rowing team and cajoled me into trying it out. Within 3 months, I had completely fallen in love with the sport.
Why did you choose to pursue rowing?
Well, I grew up in DC where rowing is a fairly common scene on the Potomac River. After a few months of learning, I was identified by the George Washington University coach and was recruited to row there. Rowing provided me an opportunity and an outlet to push myself as hard as I was able to go… as long as I showed up every single day, I could get out of it as much as I put in. The arc for improvement was one that I had never experienced before.
Talk about an improvement arc… how did you go from discovering the sport so late to the 2004 Olympics in Athens?
For as long as I can remember, I had wanted to compete at the Olympics in literally any sport. It was my childhood dream to represent my country on the international stage, and as I kept getting better at rowing, I started to see the sport as a vehicle for realising that dream. After years of pushing myself to be the best that I could be, I was one of the top scullers in the country. I was on the cusp of earning a spot on the USA Rowing Team for the 2000 Olympics, but I lost the trials by thirty-three hundredths of a second.
After that defeat, I considered hanging up my oars and leaving the sport behind. Luckily, I had coaches like Mike Teti who refused to let me retire and pushed me to come back for another four years. When I made Team USA for the 2004 Olympic Games in Athens, I was so thankful to all the people who helped me keep going. Nothing in life that you really want comes without some sort of trial and tribulation. It was incredibly difficult to be knocked down and then pick myself back up again in order to push for another four years, but I am so grateful that I did.
What was it like being an Olympian?
It was a great experience. I am eternally thankful for all of the people that helped me get there, for all of the work that it required, for helping me figure out who I am. The Olympics truly helped define my life beyond the sport because I met a lot of different people in pursuit of this larger dream, and it helped me figure out the type of person that I want to be.
What is your fitness style now?
I love being fit, but I don't really crush it at the gym all the time. Instead, I consider myself a lifestyle athlete, in that I do the activities that help support me being able to do what I like to do -- I swim because I love to surf; I do plyometrics because they help me keep up with my kids, and I row because I love being out on the water. My wife, Megan, was a swimmer in college so being on or in the water is something our entire family enjoys.
What would you like to learn about our Hydrow Athletes? Tweet your questions at @Hydrow_by_CREW using #AskTeamHydrow.