Meet the Crew, Pride Edition: Tony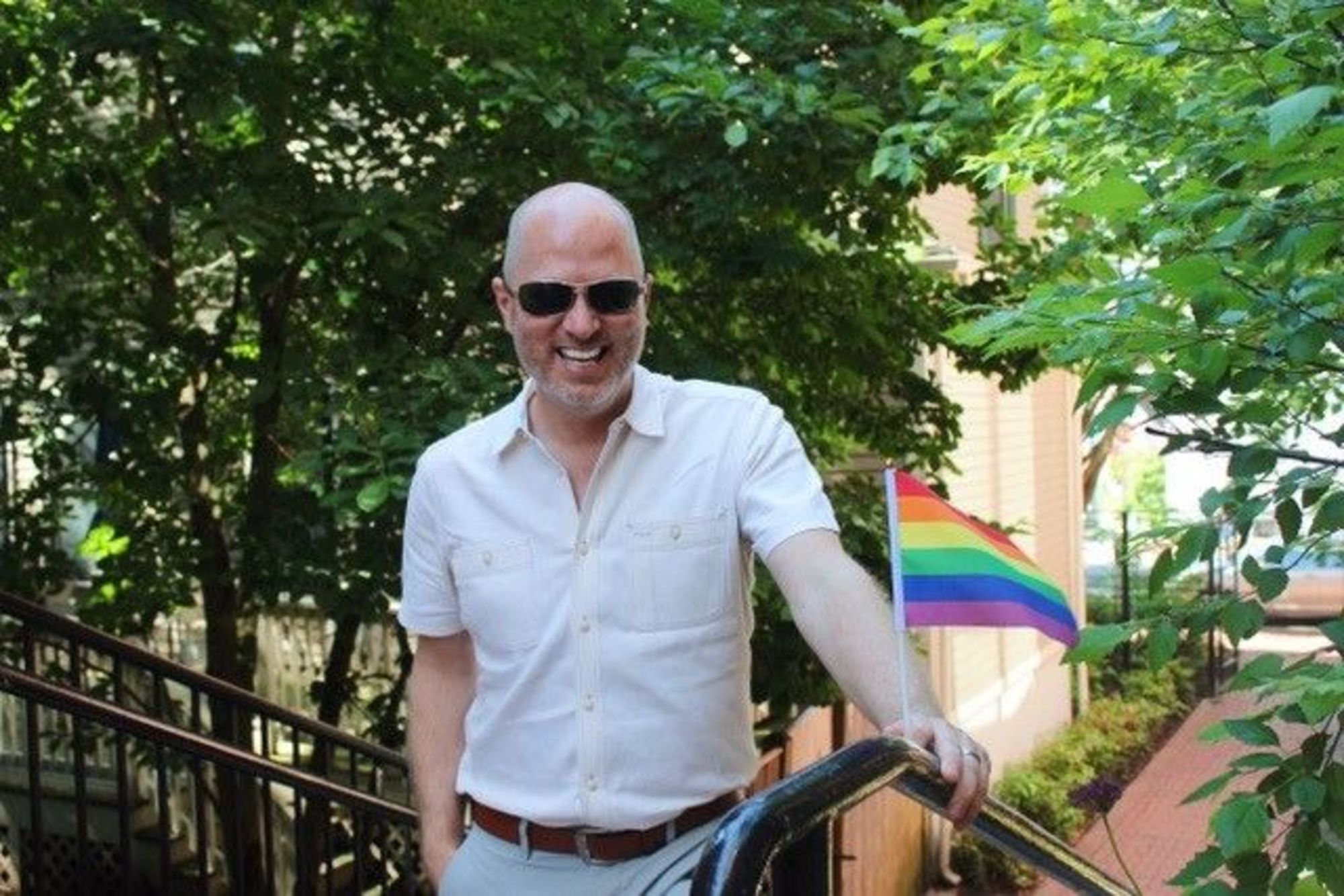 Welcome back! This week's Pride Edition of Meet the Crew features Tony Roberts, Hydrow's Customer Support Manager.
You've lived quite a few different places. How did you end up in the Boston area?
I've bounced around quite a lot over the years. I'm originally from Northern Kentucky, but have also lived in Cincinnati, Houston, Chicago, Philadelphia and Atlanta. I also spent 16 years working for an airline, so I've traveled just about everywhere (fun fact: I've been to all 50 states!) My husband David and I got married in Provincetown in 2013 when marriage was still not recognized in our home state. We had been visiting Provincetown for a few years, and started spending more time in Boston each trip. We ultimately adopted Boston as our home city in 2013 -- it adopted us, really. 
It happened fairly serendipitously. It was just after Thanksgiving 2018, and I saw an ad for a brand ambassador for Hydrow's pop-up shop [at Copley Place in Boston, MA]. It was a short-term opportunity, which was what I was looking for at the time. I reached out and came in for an interview with [Hydrow Athlete] Nick, and a few other members of the team. I was particularly struck by the authenticity I felt with each person I met with, and how much passion they had for the work they were doing. 
I was coming off of a number of sole proprietorships, so it had been a while since I had worked closely with others and it felt good to be a part of a team again. I have an extensive customer service background, so my role quickly evolved from ambassador to manager. The store experience went well - and while I had initially wanted a short-term opportunity, it didn't take long for me to realise that I wanted to be here for the long haul. I came in during that time and met with Bruce and a few other team members, and had the chance to ask more about the vision for Hydrow, and specifically customer support. When the store wrapped, I came on full-time as a Customer Support Manager, and I've been here ever since.
What is Hydrow's culture like?
It's a very collaborative organisation -- definitely not a "stay in your lane" culture. From the start, I've felt encouraged and empowered to share my ideas, and have been able to draw from my previous experiences to add value wherever I can. It's a high-energy environment for sure, and while there's an element of "organised chaos" that's typical of a startup, I think we've been really successful in creating structure that helps drive us forward. 
As an organisation, it's a very accepting place -- there's incredible representation here. As soon as I joined the team, I felt the presence of strong allies here, and that was really special. 
How does teamwork factor into Hydrow's culture?
I've honestly never felt so comfortable in a workplace before. There's something special about this organisation -- it has something that I didn't even realise I was missing until I got here. We're all working towards a common goal together, and I think that we all see that in one another. 
How have your previous experiences shaped your role at Hydrow?
My background is fairly eclectic -- I traveled a lot, and have lived in several different states. I've worked in litigation support, I've been a consultant, worked in real estate, and, as I mentioned, for an airline for almost 20 years. Each of those experiences, in some way or another, has taught me something that I leverage in my role here today.
Though they're in vastly different industries, each of these roles have involved engaging with customers directly. I've learned to be patient, understanding and empathetic, and how to identify creative solutions to solving people's problems. Customer service is tricky -- a lot of times, people just want to feel heard. I've learned that if you take the time to identify what's really driving someone's reaction, you're more likely to be able to help them resolve it successfully, allowing both of you to walk away from the interaction feeling good about it. 
What activities do you enjoy outside of work?
I enjoy anything on the water, visiting the Cape with friends, new travel experiences -- and, of course, performing the "happy-leg-dance." (Editor's note: the happy-leg-dance is utterly spectacular).
What's your favourite cheat meal?
Favourite songs (at the moment?)
"Chandelier" by Sia, "Hey Look Ma, I Made it" by Panic at the Disco and "Dancing on My Own" by Robyn.
Have a question for our team you'd like to see answered in a future post? Tweet your questions at @Hydrow_by_CREW using #AskTeamHydrow.