Laine's Road to Recovery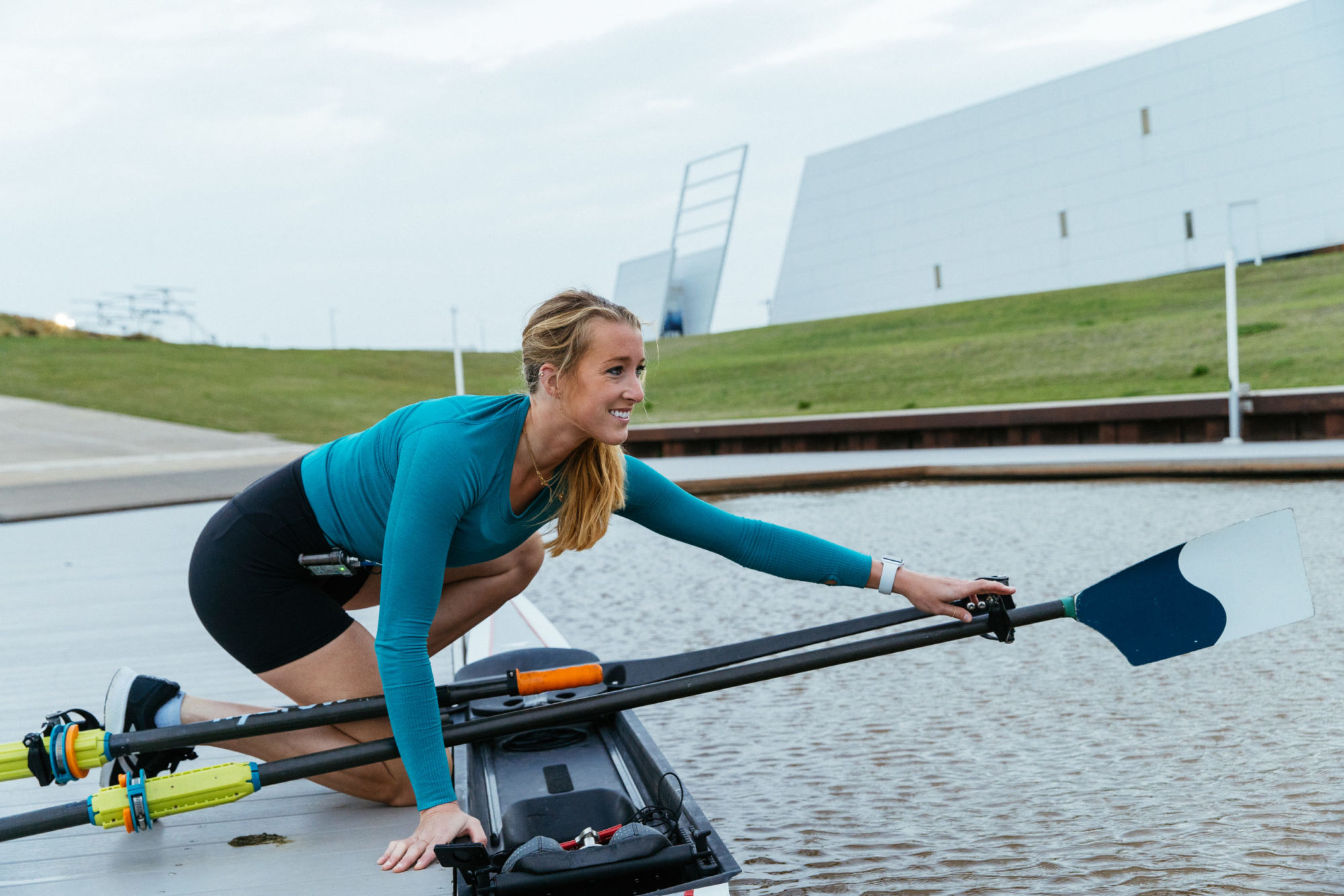 ** Note: if you are ever recovering from injury, please consult your doctor before working out with Hydrow **
Injuries are inevitable. They happen to the best of us, even the most highly trained Athletes. While injuries and the recovery process may look different for everyone, staying mentally and physically healthy are important factors in a successful recovery. 
On March 10th some of the Hydrow Athletes were filming new workouts in Phoenix when Laine found herself with a broken elbow the day after they finished filming. Like many athletes, Laine is no stranger to injury… but how can you make the most of recovering and still maintain a fitness routine?
Over the course of the weeks following her injury, Laine documented her recovery and adapted her workout regimens at the recommendation of her doctor. Whether you have suffered an upper-body, leg, or other injury, there are many ways to pivot your workouts on Hydrow to boost your mental and physical health. Read more about Laine's recovery in her own words. 
Accidents Happen 
March 10th: We finished filming early in Phoenix, so I went mountain biking in the Phoenix Mountains Preserve. I wanted to go for quite some time; I used to mountain bike quite a bit throughout college and afterwards. I was having a great time, and having a great stride, but about 10 minutes in, I started biking downhill over loose rocks. The next thing I knew: I was flipping over my bike, my bike landed back on me and I was face to face with the rocks. Not only was I totally stunned, but also cut up everywhere. 
All I could think about was still continuing to bike because I had only been out there for 10 minutes! I could rapidly feel my arm starting to freeze with pain more and more with every bump. The realization that it was possibly a bit more serious became more and more clear the longer I rode. 
After the ride, we had dinner, and then I went to the ER for an x-ray. Immediately, the doctor saw that my elbow was fractured, so they wrapped me up in a splint, gave me a sling, instructed me to rest my arm for 4-6 weeks, and sent me on my way.
Laine's Road to Recovery
March 12th: The everyday little things were tough -- putting my hair up, showering, or even pulling up my pants were small battles. When I showered, I wrapped my full arm in a trash bag to avoid the sling and splint getting wet. 
I am especially grateful for my amazing teammates. We were still in Phoenix, and they were always in tune to what I needed and were incredibly helpful, always offering to help with the smallest of tasks. 
Huge shoutout to Dani, James and Nick for always being there!!
March 13th - 15th: Before flying back east to Boston, I went to Los Angeles for the long weekend, and started getting used to the limits that I had with my splint and sling. I noticed that it became more painful when walking, so I had to limit my movement in the few days right after the fall. Of course, I was frustrated -- everything was simply taking longer for me to do.
But my sight was set on recovery! I had to maintain a positive attitude -- even though I rarely wanted to be...
Tip from Dr. Kristin Haraldsdottir: If you are recovering from an injury and feel any pain, don't push yourself too hard. It's perfectly fine to modify your workouts as needed to accommodate for injuries. Using proper exercise form is absolutely critical when coming back from time away from working out, especially when you're coming back from an injury. 
March 16th: I finally flew back to Boston. One of my favorite things to do in Boston is work out -- going on runs, doing Hydrow workouts, going to my favorite bootcamp classes, or walking everywhere. So I would be lying if I didn't admit that I was bummed that it was now almost a full week with no exercise at all. I'm pretty sure the only time I even felt a bead of sweat was when I was watching a dog run down the street without a leash. 
But, I needed to listen to my doctor and my body. 
I knew I had to look at the positives -- how lucky I was that it wasn't something worse -- I had to learn to appreciate the good compared to what the alternative could possibly be. 
March 17th: My appointment with my Boston doctor was early in the morning and she confirmed I need at least 4 weeks of absolutely no rowing. I was not thrilled because this meant I had to miss the first week of Live Rows in New Orleans, but I knew it would be an opportunity to be a team player and help out where I could on the trip! 
When we travel to film workouts for Hydrow, it's a true team effort. Carrying equipment, loading our shells from the trailer, rigging the boats, and that's only in the set-up. It's a really hands-on preparation, so being without the use of one hand made it difficult to add value. Thankfully, I have worked with Nick, James, Dani, and the rest of the crew very well and we came up with creative ways for me to be active with the team until I was able to row again.
Working Out While Recovering
March 19th: I started physical therapy and gosh, PT is a beast!  My trainer gave me a 2 pound weight to do some flexion and bicep work; however, my mobility range was slim to none so I was very quickly downgraded to a 1 pound hand weight. Some of the exercises we did included static bicep curls, flexion of the wrist palm facing upwards and downwards and straight arm raises, fly's and triceps. 
My trainer liked to remind me to forget my pride here and just do little movements as I had a broken bone in my body. Recovering from an injury is a mental battle, too! I wanted to be faster and stronger before I was ready, but little by little, I was able to improve my mobility. 
March 22nd: I was able to run for the first time (YES!!) but I essentially kept my arm bent and locked it in that position. It felt funny, probably looked funny, but it was great to move -- so I was thankful! 
I was feeling ambitious, and wanted to work on exercises that I could still do. I searched the library of On the Mat workouts and decided I could work on my whole body strength, so I worked in a 20-min lower body strength with Peter (20' Strength: Hips and Core Power with Peter and Sera Moon from 3/15/21). There were some moves from the beginning involving flexion and stretching with both arms which I couldn't do, but I kept to my own ability and didn't do any exercises that involved my arms. For example, I couldn't do triceps with a weight so I would instead do arm raises without a weight.  Additionally, whenever there were any of the moves that needed my hands on the mat, I just did squats instead, and those are always great for you! If something isn't feeling right, definitely modify -- it's better safe than sorry! I also started to regularly work Peter's mobility workouts into my daily routine, and I've included some of my favorites below!
Recommended mobility workouts:
- 10-min "Mobility: Improve Your Reach" with Peter from 4/2/21 - 5-min "Mobility: Break it Down" with Peter and Aquil from 3/8/21
March 23rd: At physical therapy, I worked with 2lbs/3lbs and was feeling better but fairly sore. Ian, my physical therapist, massaged around the elbow because that is where most of my tension was because I couldn't fully straighten my arm. I was sore after PT, but making progress, and was allowed to go on another run, so things were looking up!
March 24th: Today, I was able to check out a 20-min Lower Body Strength On the Mat workout with Peter and myself from 10/31/20 (it's always a weird feeling to work out with myself!) -- I saw great progress and was able to do all of the exercises. It was a great day for my recovery!
March 25th: PT again today and I savored every second as I knew this was the last time before we headed out of town again. Heating my elbow/arm was incredible -- it was so good to heat my injury as I needed to keep the muscles loose and comfortable before focusing on strength and movement. The more I did to increase my mobility and range of motion, the better. Of course, it was critical to continue listening to my body. Any movement that hurt, I made note of, and moved on to the next. 
March 29th: First day in New Orleans, and it was pretty fun! We stayed at a nice Airbnb that had a great space for doing some Strength HIIT workouts with Peter that were helpful in getting my heart rate up during my recovery after my doctor gave me the green light.
Every day I set small goals for myself, which really helped me push through mentally. Small wins are important when recovering from an injury, and knowing that it's okay to fall short of the goals is crucial. Injuries are a huge bummer, there's no avoiding that, but listening to my body and my doctors, while staying positive really made my recovery that much better. Because I took it slow and was patient with my body, I was able to start filming short, low intensity workouts with Hydrow again about four and a half weeks after my injury. 
Early May: It's been almost two months since my injury and everyday, I'm grateful for more and more opportunities to get stronger. It's all about a healthy balance of patience, understanding, knowledge and dedication. 
Throughout this process, I've focused on these things: - Patience in the process of your body needing to heal and take care of itself.  - Understanding that it will take time and will feel frustrating but knowing that helps in what you're feeling and why.  - Knowledge when it comes to your body and your specific health care provider… knowing what your limits are, knowing how your body may or may not react gives you the power to select the best practices for your day.  - Finally, dedication, because even if you can only complete 10 minutes of limited movement into your day... be dedicated to those few minutes that you do have, and be dedicated to thinking positively and taking it day by day! 
The road to recovery changes from person to person, and I am so thankful that I have made a full recovery. I am grateful for my doctors, teammates, and the entire Hydrow community. Hydrow is one of the best support groups out there and knowing our community is always there for a pep talk or positive thought is really inspiring and helped motivate me to get back on the water. 
If you're looking for ways to stay fit while recovering, try some low-impact workouts with Hydrow. 
Check out one of Laine's workouts where she talks about her recovery process, available in the on-demand library today: 10-min Breathe "Getting Back Into It Row".