From Hydrow Training to Rowing the Atlantic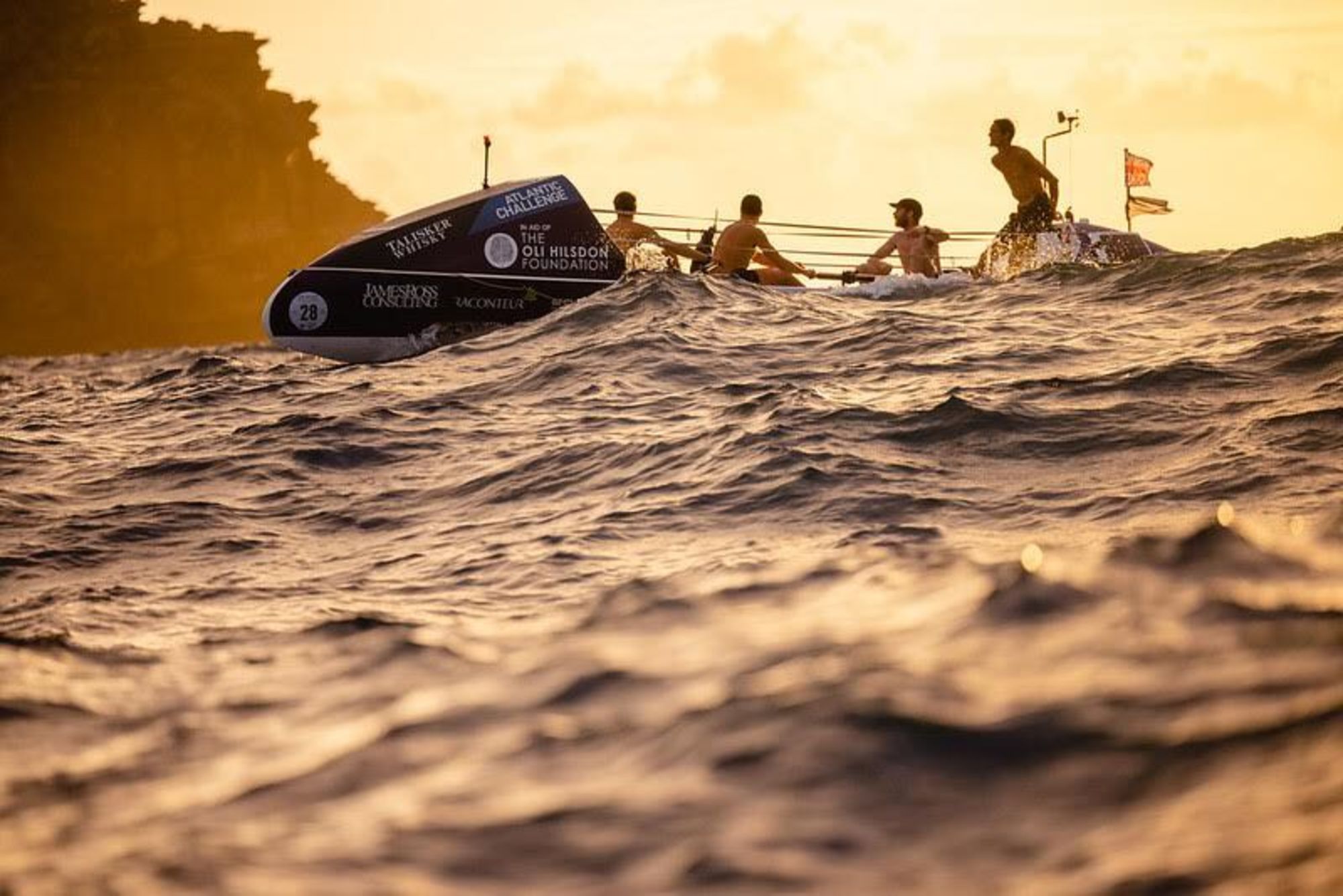 Two great causes. One extreme row.
When Jordan Parkinson, Tom Atkinson, Paul Roadnight, and Richard Parkinson signed up for the Talisker Whisky Atlantic Challenge in 2021, most of the team didn't have any real rowing experience. But motivated by the event's two valuable causes — Sailors' Society, which supports seafarers both on board and ashore, and Rock2Recovery, which supports the mental health of veterans — this UK-based crew decided to come together as Team Atlantic R2R. As they prepare for the row of a lifetime, training on Hydrow Rowers is playing a pivotal role. 
A little experience. A lot of ambition.
Each team member is bringing a unique combination of strengths to the challenge:
At 6'8" tall and 115kg (253 lbs), Paul Roadnight is the engine of the boat. As a serving warrant officer with 20 years of experience in the Army, he blends a calm nature and relentless good humor with the steely resolve to plow through any obstacle. His build is close to an ideal one for rowers, and in time trials (both on the Hydrow and previous rowers), no one has come close to his output.

Tom Atkinson is Mr. Practical. As a qualified plumber, he's uniquely qualified to serve as the chief engineer on board — leveraging a proven ability to examine faulty systems with a rational eye and come up with effective solutions on the fly. Over the past two years of training, he's shown both enormous stamina and zero fear of hard work. Considering his background in Army reconnaissance, however, this comes as little surprise. 

Jordan Parkinson is professional seafarer on the team, with the qualifications and experience to deal with navigational, comms, first aid, and personnel issues at sea. Having recently completed a comprehensive wilderness first aid course, he'll also be serving as the team's chief medic. As the youngest (and possibly the fittest) member of the team, he'll be asked to take the lead on the oars in tough times — especially close to the end of the race when the pressure's on.

With 13 years of competitive rowing experience for Pilot Gigs in Cornwall, UK (1986-1999) — including time as a competitor in the 1998 World Championships in the Isles of Scilly — Richard Parkinson is the one deeply seasoned rower on the crew. He's also a grandfather. With this background, he's no stranger to working through taxing situations on long sea passages in cramped conditions, and understands the mental and physical stamina necessary to compete in distance events. His years of long stints on the oars in heavy seas will be crucial as he leads the team by example. 
Q&A with Atlantic R2R
Q: How have you used Hydrow to train for this race?
A: Up to this point, we've all learned technique and how to get the most out of the machine. In conjunction with stretching and suppleness classes, we're now — with 10 months' training left before the race starts — about to start ramping up the hours on the Hydrow to prepare our bodies for sustained rowing periods.
Q: Why is learning to work within a team setting so important as you prepare for this challenge? 
A: Working as a team in a confined space for such a prolonged period demands certain parameters from the outset. We're all committed to pledging mutual support, help, sympathy, calmness, and generosity during the passage. Boat discipline and timekeeping will also be key. 
We're a close team. Tom and Paul go back to school together, and Richard and Jordan are father and son. Yes, there'll be moments for sure, but these bonds will be difficult to break down.
Q: As Hydrow has filmed live outdoor workouts across the globe, we've come to know that things can become unpredictable on the water at any given moment. How is your team preparing for the unpredictable nature of this challenge? 
A: We plan to start our training on Loch Ness to get to know the boat. This 30-mile stretch of fresh water can be challenging in itself, with 2-meter swells, monsters, and strong winds funneling through the glen. It's not to be taken lightly. After familiarization on the Loch, we then plan to base the boat in Portree, Scotland. From here we can navigate short passages in the Straits of Raasay in the relative security of our home port, and gradually radiate further afield — culminating in circumnavigation of the Isle of Skye itself. We also have the Outer Hebrides archipelago on our doorstep, with passages to isolated islands such as St. Kilda a possibility. During this training period, we hope to test the boat's systems and our abilities to cope. It also provides a realistic simulation for the race.
Q: This race is a huge undertaking, both mentally and physically. How are you all preparing for both aspects of the challenge?
A: Use of the Hydrows has been a massive training aid, and will continue to be so until the race commences. A massive thank you to you guys. We've detailed our intended ocean rowing training, but psychologically there's only so much preparation you can do. We're all taken part in discussions, read books, and listened to many blogs of previous ocean rowers on the subject of coping mentally.
Individually, all of the crew have operated under conditions of frightening duress in cramped, cold, and wet environments, and all have been subject to seasickness. Coping with privations like this — and learning the best ways to deal with them — will be a big part of our summer training on Skye. 
Q: How long do you anticipate it will take your team to complete the race?
A: We're hoping the race will take between 35-45 days, but this largely depends on the weather conditions being in our favor. The reason the event starts in December from the Canary Islands is so the ocean currents and tradewinds naturally take you from west-to-east. That said, we're told by the race organizers to pack enough food and provisions for a total of 55 days. The race directors and safety officers all check this during the pre-race inspection to ensure we're covered, even if things go long. 
You can follow Atlantic R2R at www.atlanticr2r.com as they prepare for their journey from the Canary Islands to Antigua. The race is scheduled to begin on December 12, 2023. You can also learn more about the Rock2Recovery and Sailors' Society charities here.