Apple Watch ❤️ Hydrow: Making a New Connection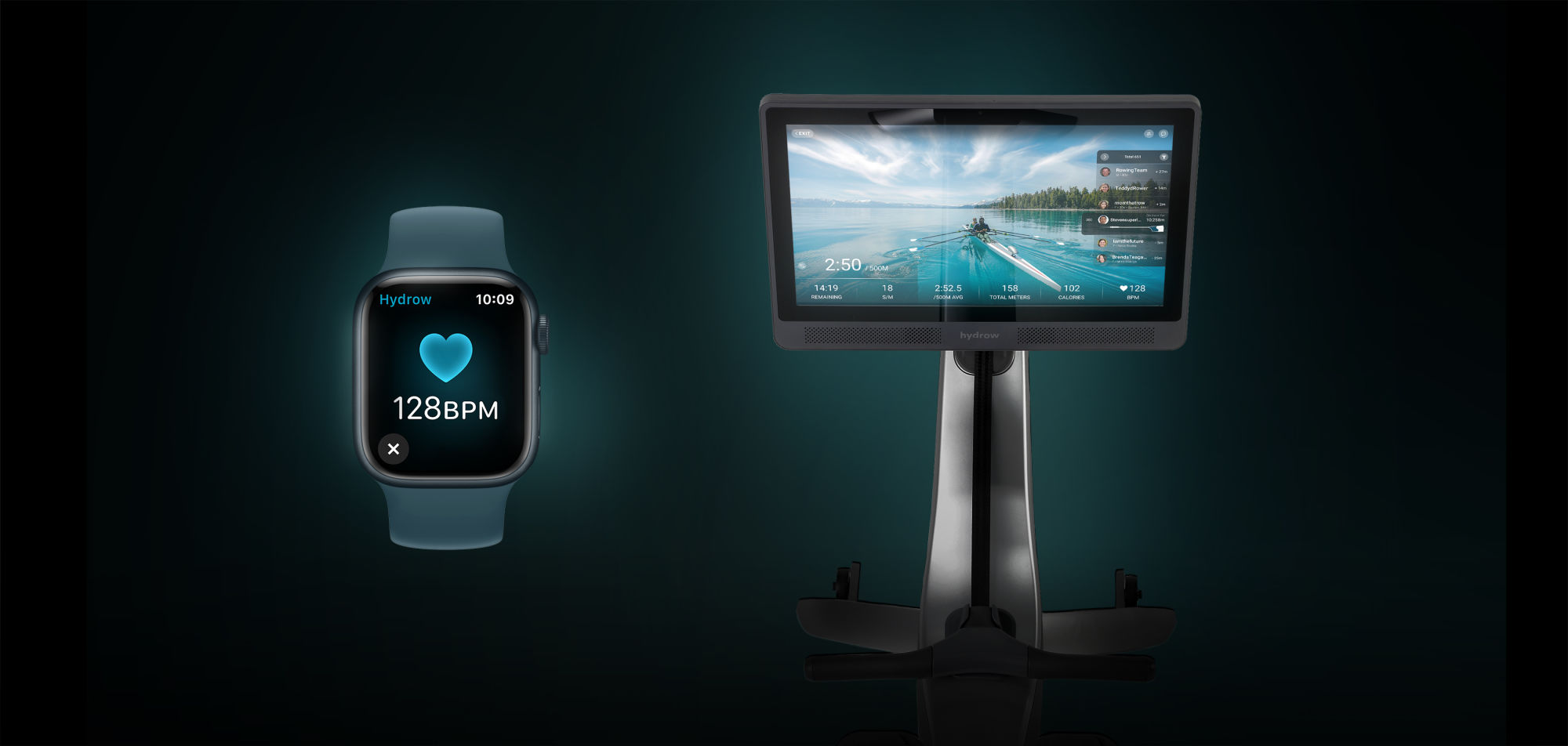 A new way to integrate Hydrow + Apple Health
Many Hydrow Members already connect their Hydrow app to Apple Health, creating an automatic sync so that their workout data is captured on their daily activity logs. So, what's new? 
With our new beta launch, you can also record your heart rate in real time during rowing and circuit training workouts, adding a crucial new data point to help you track progress along your fitness journey.  
How does it work? (Hint: It's easy.)
The Heart Rate Monitor screen on your rower will include a QR code with instructions to download and open the Hydrow app on your Apple Watch. If you haven't already done so, add the app to your Apple Watch and grant the appropriate permissions. 
Then, follow these three simple steps:
Open the Hydrow app on your Apple Watch and follow the prompts. 

Select a rowing or circuit training workout on your Hydrow. Then, in the workout details, tap the Heart Rate Monitor button. The connection will happen automatically — no need to hunt down your Apple Watch from a list of devices. Once you're connected, the app will show your heart rate in real time as you work out.

When you finish your workout, tap the "X" button on your watch to disconnect.
A little bit more on your data
Now, you can review your heart rate graphs within the Apple Health app, giving you a valuable new insight into your overall fitness by showing how each individual workout is moving you closer to your whole-body health goals. 
The best part? You don't have to do anything to make it work. The data is stored similar to any heart rate monitor and uses your Hydrow rower's existing integration. Please note that your heart rate data will only show on workouts where that data already appears (rowing and circuit training workouts completed on your Hydrow).  
A little bit more on disconnecting
We've set up this beta integration so that there are two easy ways to disconnect:
You can disconnect from your Hydrow rower by tapping the (X) button on the Hydrow app on your Apple Watch once your workout is complete, or by adjusting your Apple Watch settings.

Forget to disconnect? No worries: Your Apple Watch will automatically disconnect when you log out of your Hydrow profile or if your Hydrow rower goes to sleep. 
Help your friends discover Hydrow
How would your friends or family benefit from being able to track their heart rates in real time during great rowing workouts? Find out — by referring them to Hydrow. Your friend will get 10% off their purchase, and you'll receive a $150 Visa Gift Card when they make that purchase. It's a total win-win scenario, and a great way to help the people you care about stay on track with their own fitness goals.