Voyage with us to Destination: Alaska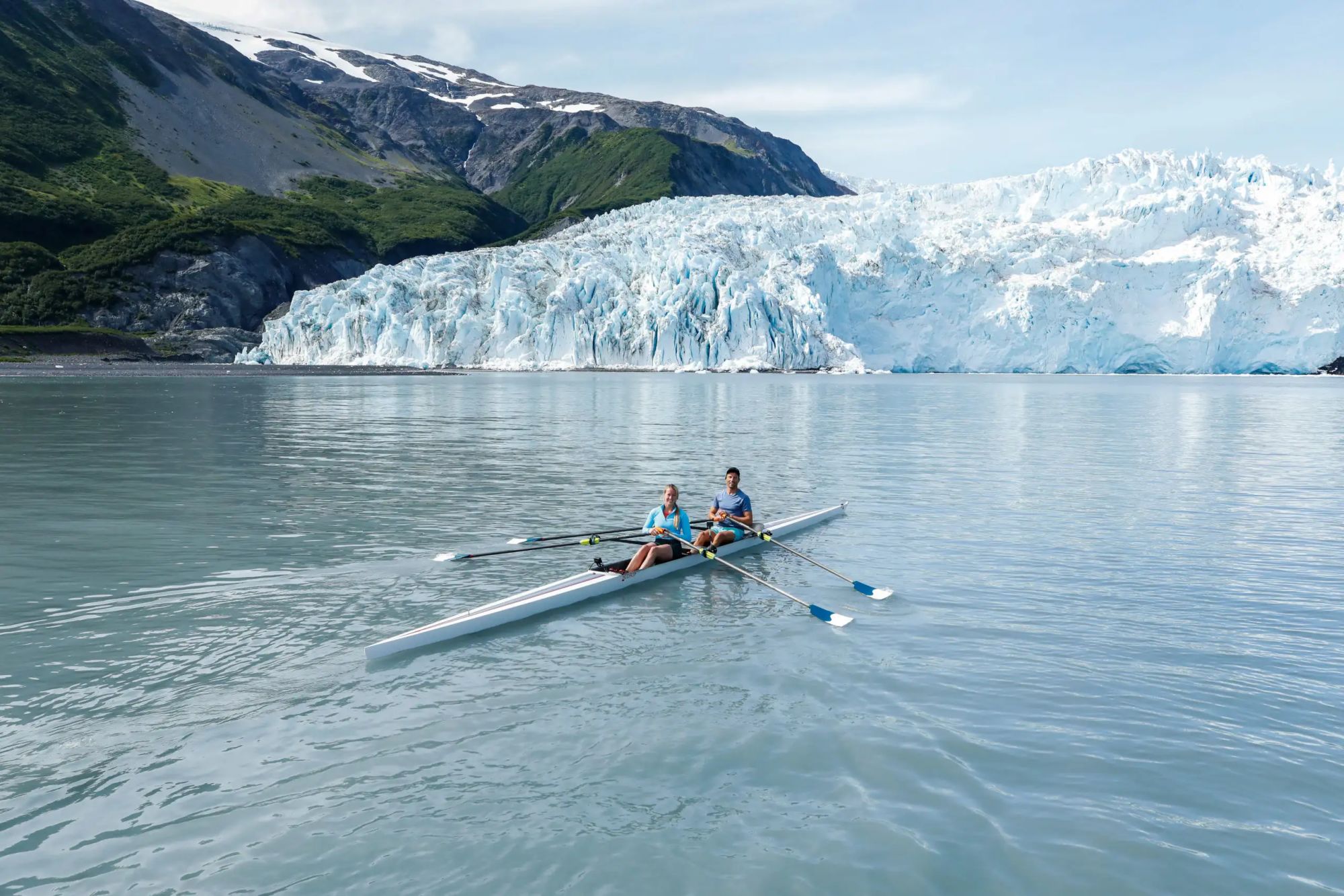 Alaska unlocked—a new destination and a new badge
One of the best parts of working out with Hydrow is our immersive, Live Outdoor Reality™ experiences and exploring iconic waterways around the world.
Today, we're excited to announce that we're adding the waters of Alaska to the roster, giving you a beautiful new place to work out, where you can gaze upon whales, seals, and otters in their natural habitat, along with glaciers, snow-capped mountains, and waterfalls.
To mark this special new location, we're offering our first-ever Hydrow Destination badge. Simply complete any workout in Alaska to earn one and add it to your achievements. 
Workouts from Alaska will be available beginning Monday, October 3rd. Filter your Location by Alaska to find them!
Q & A: Capturing Alaska with Nick Karwoski and Andrea Buch
We sat down with Hydrow Athlete Nick Karwoski and Production Leader Andrea Buch to hear about bringing the Alaskan wilderness to Hydrow.
Nick: So much of what we do at Hydrow is naming a place and then envisioning how we might be able to experience that from the water, which is always a unique perspective. A really important part when we select destinations is, "Will it convey a visual you can associate with the location just by name?" Alaska came to be because of the idea of mountains and beautiful natural elements on the screen. We've had to dodge coconuts before—but never an iceberg. Anyone who does these rows will know very well that we were in Alaska based on what you see. 
What were some of the hurdles you faced filming in this destination?
Andrea: This destination definitely pushed the limits of our production crew, starting with getting the equipment up there being quite a big and daunting challenge. The rowing shell voyaged on a container ship up the entire west coast of Canada into Alaska, being handled by people who aren't used to dealing with this equipment. The teamwork that was required was exceptional on every front. One of the most interesting contrasts that Members will see is the filming boat—it's 10 to 12 feet wider with 40 times the horsepower, and we had a captain driving. There was a big learning curve associated with understanding what the boats could do, communicating with the captains, and rowing on new waterways with unpredictable conditions, and Members will be able to join us on that journey. 
Nick: We had to drive sometimes upwards of two hours to get to an area to put the boat in the water and then film a workout. In Seward, there was even an element of sea sickness that we hadn't experienced before. This destination definitely pushed Hydrow forward in terms of Live Outdoor Reality™ and what's possible for our crew. I'm excited to open up the door for a lot of new opportunities for Hydrow and its Members.
What's your favorite memory from filming these rows?
Andrea: Experiencing wildlife with everyone. To have something like this happen while the cameras were rolling was an unbelievable experience. We saw a family of whales and groups of otters, and we're always like, "did you get that in frame?!" Mother Nature accommodated our endeavor to show off this part of the world for people, our Members, who we're lucky are on this journey with us—it's a super memorable experience. And at the end of these very long days you have things like Dani making the team chicken for dinner. Those moments are really special and a reminder that it truly takes a village.
Why are you excited for Hydrow Members to experience these workouts?
Nick: I'm excited for Members to work out in Alaska because of the beauty. It's such a stunning place, whether it's mountains upon mountains with snow cover or the changing color of the water as we approach glaciers. It all just looks and feels so different. We're pretty sure not many, if any people, have rowed in these areas before so it's really unique and something special to be able to share that with Members.
Andrea: This destination absolutely has a sense of exploration, specialness, and newness. Watching the Athletes, there were so many times when we just stopped and looked around because there was a magic moment happening on the water—that was the next level. We're so excited to give Members this experience in nature that not many people have. We're going to take you there, and you'll get close.