Join us for an all-new adventure—Destination: Vancouver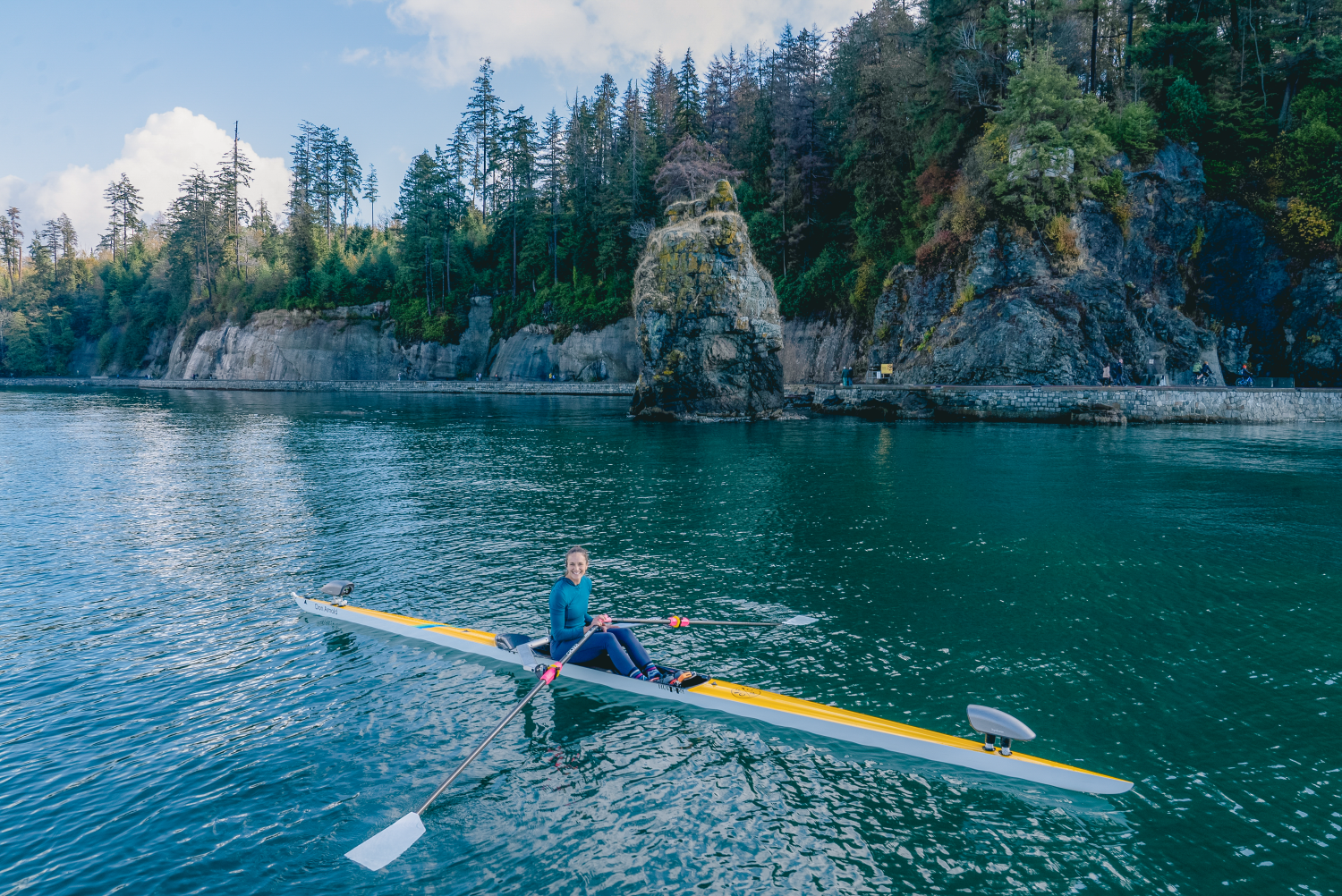 Let's head north for the winter
At Hydrow, we're always on the move—and working hard to take you to the world's most beautiful waterways, all from the comfort of your rower. After rowing incredible cities like Prague and Chicago, we're proud to bring our crew to Vancouver, British Columbia!
Vancouver is the third-largest metropolitan area in all of Canada and has an incredible geography where mountains, water, and a modern city intersect. Rich with indigenous and natural history, Vancouver is today a broadly diverse city—and with waterways like the False Creek and the English Bay, it's a welcoming place for all rowers.
Your new Destination workouts
Starting the week of December 12, we'll be publishing workouts from Vancouver. To find the workouts, just filter by Location: Canada. And it wouldn't be a destination challenge without a unique badge to earn—just complete any workout from Vancouver!
Chatting Canada with our crew
Hear more from Hydrow Athletes Aquil, Buffy, James, and Mac about this Destination and what makes these workouts so special.
Why are you excited for Hydrow Members to experience these workouts?
Buffy: I'm super excited to bring people north, and Vancouver is one of the most beautiful cities in Canada. It's all-encompassing, where the mountains meet the water, where the water meets the city. It's colorful and artistic. 
James: Canada has a rich rowing tradition. If you've done any of my other workouts, you know that I talk about my experiences in Canada and rowing with Canadians, so it's nice to actually be in the country that I speak so fondly of before. Also being a movie buff, it was really fun rowing in Vancouver, the "Hollywood of the north." 
Mac: There's a little bit of everything to explore in Vancouver. False Creek was busy—there's a lot going on along the waterfront between water taxis, ships, and people along the massive seawall. I hope that Members get to see the seals in the Journey that I filmed! (Editors note: This Journey will launch on December 17th) 
Aquil:  The amount of diversity within Vancouver is second to none. In fact, at one point, it was the hippie capital of Canada, as Greenpeace was started in Vancouver. And there are various ways that the waterways are used, between paddleboarders, canoers, shipping vessels, and tours.
What's your favorite memory from filming these rows?
Buffy: I loved in my "Welcome to Vancouver" row that we captured Vancouver's big waves and scenery. I was essentially surfing those waves. The rowing isn't pretty, but we captured Canada in its essence. 
Mac: This was my first time in Canada, and it was a lot colder than I expected. It was cold but majestic. I loved spending time exploring the city and trying Lee's donuts! 
James: The motto of this trip was "seize the day." The weather may have gotten us down at first, but as soon as the sun peeked through, we jumped out there and filmed. It's fun to look back and realize how we were able to capture so much in just two days of filming.  
Aquil: The Vancouver community was so warm, welcoming, and hospitable. I spent an entire day walking around Granville Island, getting to speak to some of the local artists. I also loved driving through Stanley Park, realizing partway through that we were driving along a bike path.