Travel to Old Europe with Destination: Prague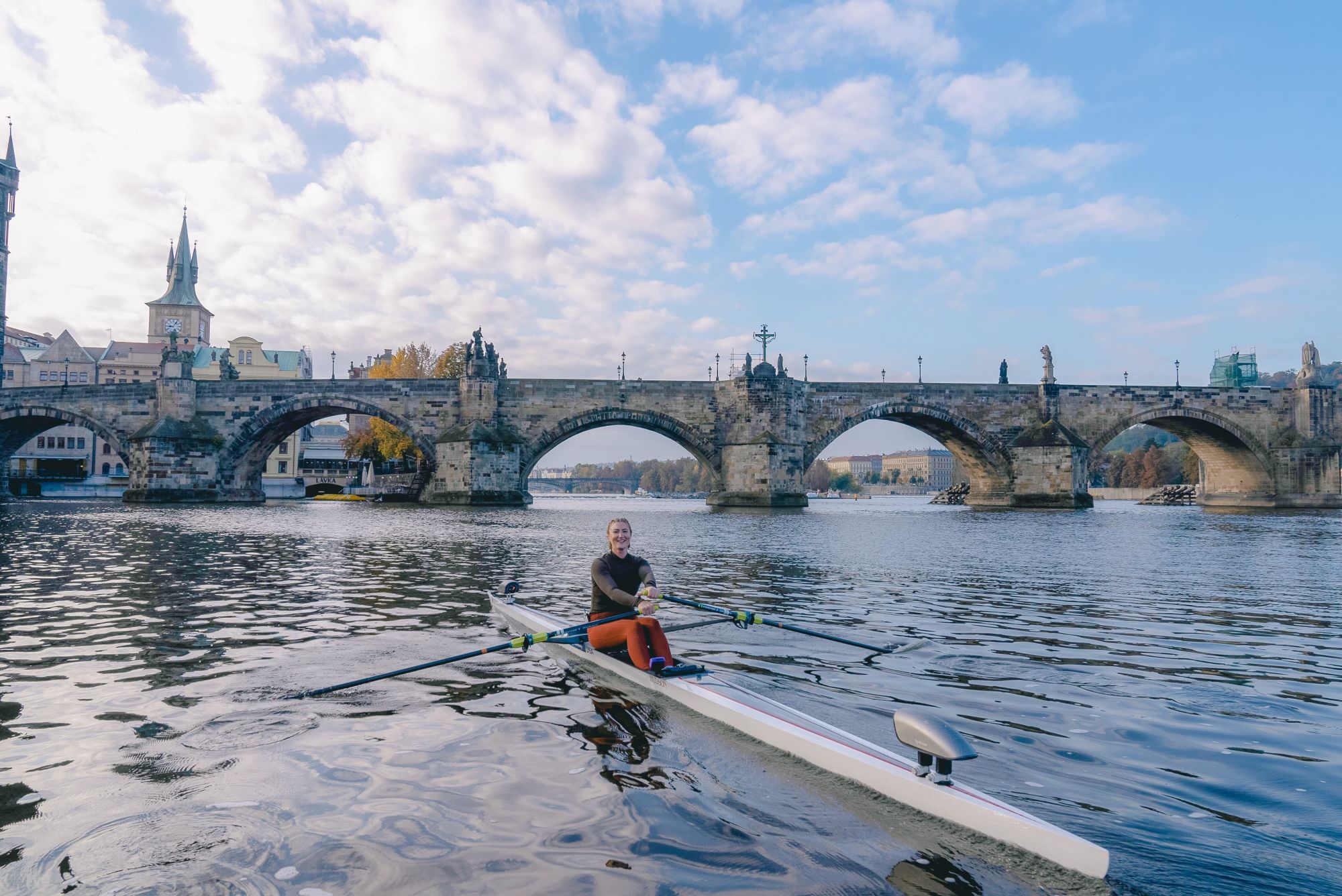 A new destination and a window to the past
We're bringing you to Prague! Join us for a row along the Vltava River in one of Europe's oldest cities, and get an incredible workout while you gaze at the city's rich history, exemplified by beautiful castles, bridges, and architecture—some of which date back to the 9th century.
At Hydrow, we're always working to bring you the world's most iconic waterways and vistas—and in this case, Prague has so much to offer you.
Look for Prague workouts to start appearing in your library on Tuesday, Nov 29th. To find the workouts, just filter by location: Czech Republic. And like our other Destination rows, when you complete any workout in Prague, you'll earn a unique destination badge to add to your collection.
Adding Prague to our itinerary
Learn more about our time in Prague and why we chose the city for our newest Destination row. We sat down with Hydrow Athletes Aisyah, Dani, Mac, and Mike to hear more about what makes the city and workouts so special. 
Why are you excited for Hydrow Members to experience these workouts?
Mac: We take our Members all over Prague by way of our boat driver, Andrej. Working with him was a highlight of the trip. Andrej kept us honest on Czech pronunciations and helped us point out different points along the river.  
Dani: Prague is easily one of the prettiest places I've ever been. The details in each of the buildings are insane—you can stare at a small section of a wall for hours discovering something new in the carvings. It's almost overwhelming to see something that beautiful. Our team tried to learn as much as we could about the city's history, and you'll see and hear it within all of our workouts. 
Mike: What's cool about Prague is that one of its most famous pieces of architecture is the Charles Bridge. Not only do you get to see it, but you also get to row under and through the bridge—a real first-hand experience with a structure built in the 1400s. 
Aisyah: Prague is known for its rich culture in classical music. We tried to incorporate that into our playlists when on this destination. I also loved the myths, stories, and legends that revolved around the whole city. One of my favorites included the history of the fortress ("Vyšehrad"), where a knight and his horse jumped off a cliff into the river. 
What's your favorite memory from filming these rows?
Mac: This is the most fun I've had on a Destination. We spent time together in and out of the boat, enjoying meals, going to candy stores, and running around the city.  
Dani: I loved spending extra time with my teammates and being on board while they filmed. Specifically, there's this cool-down where Mike navigates down Devil's Channel. It's so narrow that a someone wouldn't think to row there, but Mike did, and my parents got to see it from the bridge above.
At Hydrow, we're always working to bring you the world's most iconic waterways and vistas. Learn about our Chicago rows and other beautiful destinations available on the Hydrow now!