Home Rowing Machine: Everything you need to know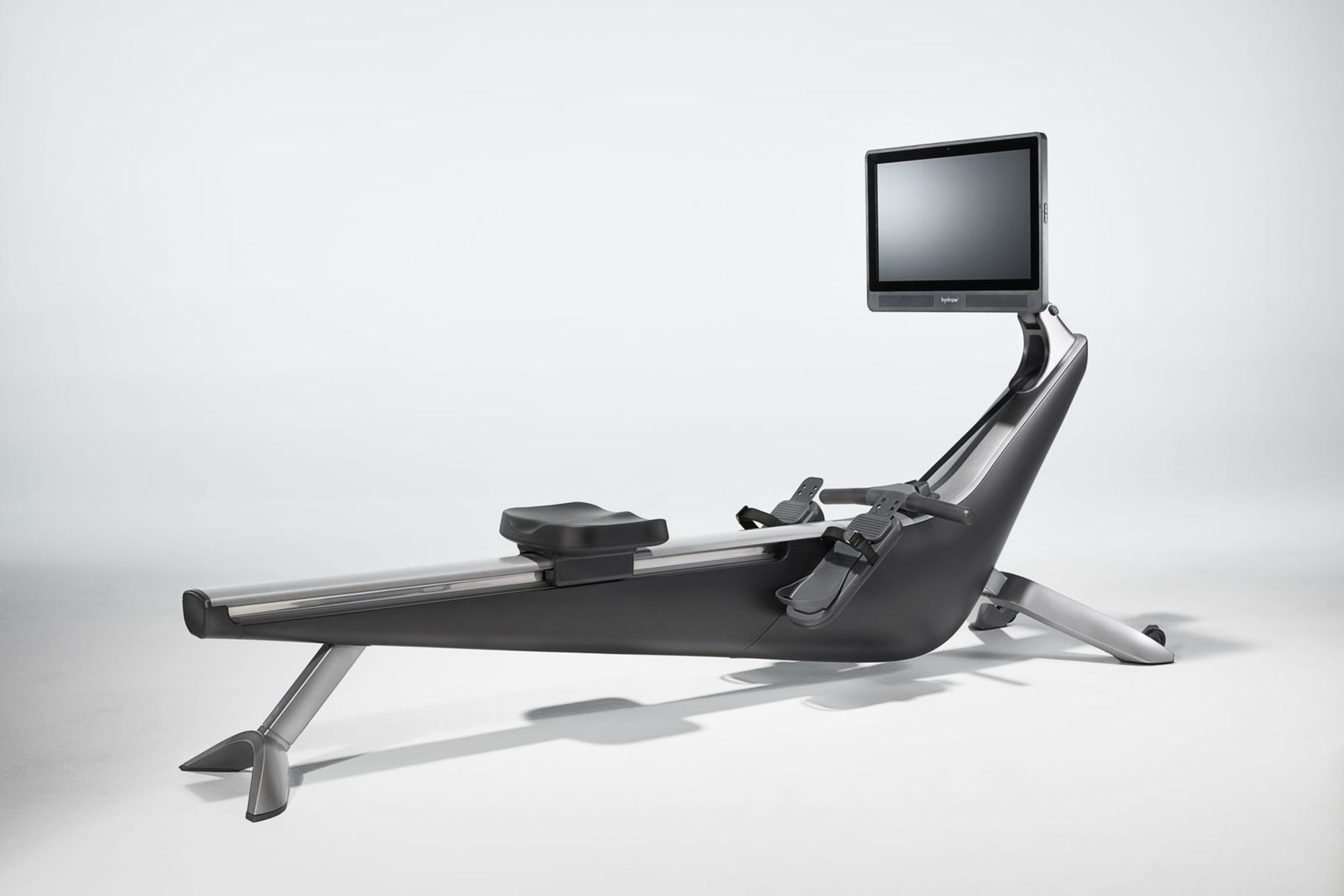 In this article we'll cover:
If you're considering an indoor rower for your home, you've likely heard about the full body-benefits of a rowing workout or have experienced the benefits first-hand of the awesome full-body workout and cardio that you get from a rowing machine. Maybe you're purchasing a home rowing machine to complement a total home gym, or maybe your rowing machine will be your first in-home fitness purchase.  No matter what your reason, we are sure you'll find your home rowing machine to be a priceless asset in achieving your health and wellness goals.
Here we'll talk about some of the reasons that a home rowing machine is such a valuable addition to your fitness regimen, and we'll discuss some of the things to look for when researching the best rowing machine for your home. 
Why Purchase a Home Rowing Machine
If you've made the decision to incorporate fitness equipment into your home, you're probably researching your options both on Amazon and Google. With the Hydrow, you're getting a high-quality rowing machine that's precisely engineered and expertly crafted with a bold design and brilliant features. Rowing is a fantastic cardio and strength training workout that works several major muscle groups, burning twice as many calories as cycling, with far less stress and impact on your joints. Let's explore some key benefits of a rowing workout that make a home rowing machine such a great investment in your health and fitness. 
Unique Benefits of Rowing
Cardio and strength training at the same time – these features of a rowing machine make it one of the best investments you can make in your health. Because of the many muscle groups worked during a rowing workout (chest, core, abs, glutes, upper body and lower body), you're building strength while simultaneously burning calories. Strength training is built into the Hydrow rowing machine through electromagnetic resistance mechanisms to deliver the perfect balance of difficulty and real-water feel. Some even have water resistance settings. 
Low impact and easy on the joints – Yes, there's a difference! Low impact exercise puts little to no strain on the body. While a rowing machine isn't the only low impact fitness machine, it's unique in that unlike some other low impact machines, it is also easy on the joints. Many people new to exercise lean towards machines such as an exercise bike, but although cycling is low impact, the repetitive pedaling motion can be difficult for those with knee problems. On the other hand, rowing is considered to be the best osteoporosis workout. This type of exercise is ideal for beginners, people with physical limitations or joint pain, seniors, or athletes concerned about injury. Rowing is known to be a phenomenal workout especially for the professional athletes and athletic trainers who are looking to ensure their body performs at optimal level for many years to come. Rowing can also be used for recovery when you incorporate a cool down to each workout.
Non-weight-bearing – exercise that can be done without supporting your own body weight. Often, people enjoy this feature of a rowing machine for the same reasons they like its low impact. It can be difficult to find an exercise that offers the same level of gain without the strain that can occur when using other fitness machines.
Full body workout – chances are, you're looking to get the most bang for your buck when choosing how to outfit your home gym. Most other fitness machines work isolated parts of the body, but a rowing machine offers a complete full body workout, incorporating the strength of your legs, arms, back, core, and upper body.
Teamwork and Community - It's no secret that rowing is the ultimate team sport. Rowing at its core is about teamwork and being in sync- Feeling support and motivation from those on your boat. With the Hydrow, not only do you get a state-of-the-art rowing machine, world-class workouts and immersive experiences from the comfort of your own home, but you also get the benefit of the Hydrow community. Hydrow, in particular, aims to replicate the teamwork phenomenon that comes with rowing through the digital community with features like the leaderboard and feed. Look to your Hydrow Athlete for guidance and motivation, and lean on your teammates for strength and support.
A home rowing machine offers a myriad of benefits in the convenience of one machine. Most rowing machines take up less space than other fitness machines, and offer easy storage. As for the Hydrow, not only do you get a state-of-the-art rowing machine that is precisely engineered, but it's aluminum frame and ergonomic body make it sleek and sophisticated so it will complement any room it's placed in and not look out of place. Additionally, it can be stored upright and the screen can be folded for convenience. This is a great benefit when comparing a rowing machine to a treadmill for example. 
Part of the convenience of a rowing machine is the ergonomic efficiency it brings to your workout routine. We discussed several of the physical benefits to rowing above, and if you've been researching different fitness machines, you've probably noticed how tough it is to find all of those benefits in one piece of equipment. Even if you do have a dedicated home gym, you probably don't really want to have to purchase a different machine for each target area. A rowing machine gives you cardio and strength training as well as a full body workout, in one piece of equipment. 
As rowing becomes more popular, rowing gyms are popping up across the country. We're all for rowing being more accessible and trendy, because it means more people are being exposed to the health and fitness benefits of rowing. With a rowing machine to use for your at-home workouts you'll be able to reap the benefits while also getting the best bang for your buck. 
When you purchase your own rowing machine, you can row as often as you like, whenever you like. You don't have to wait for a convenient class time, or shell out $15-$20 per class multiple times per week. Owning a home rowing machine is simply cost-effective and beneficial in so many ways.
What to Consider Before Buying a Rowing Machine for Your Home
So, now that you've weighed the many benefits of owning your own rowing machine, let's discuss what to think about when making your purchase. Fitness equipment is not inexpensive, but unlike most materials things that you buy, it really is an investment in your health and wellness. Regular exercise is not only valuable for your physical health, lowering your risk of heart disease, obesity, diabetes and a host of other health problems, but it also improves your mental health and sharpens your cognitive abilities. We may be biased, but we really believe that there's nothing better you can do for your overall health than incorporate regular exercise into your life. 
Let's review some of the important features to consider when comparing home rowing machines, to help you figure out which machine to choose for your home.  Not all machines are made equal so it's important to consider these rowing machine reviews. 
When we mention quality, we're not only talking about the quality of the machine (which is very important), but also the quality of the experience. The experience includes the athletes, workouts, and overall content of the experience which is just as important as the Hydrow rowing machine itself. When budgeting to buy your home rowing machine, you may be tempted to save money by purchasing a lower-end model. Before you make that choice, consider this: the rowing machine you have been using at the gym or rowing center is a top of the line commercial model, which is why you enjoy it so much. These commercial models are generally constructed from top-quality materials and contain the latest technology, backed by companies who have spent resources on research and development to find the features that are most appealing to their users.  The same is true of top quality home rowing machines – here at Hydrow, we have spent many years and resources coming up with a sleek, comfortable, superior machine to give home rowers an epic rowing experience while not compromising the training, guidance, and specially designed workouts. 
If you row regularly enough to consider purchasing a home rowing machine, you won't regret paying for a top quality model. The more you enjoy your row, the more you'll use your machine. A top quality rower, like Hydrow, is one that is commercial grade because it's designed with the heavy use cases in mind. 
Imagine finally purchasing your home rowing machine and excitedly waiting for it to be delivered, only to find that it doesn't fit in your home or stands out as a bulky, misplaced item. Before making the buying commitment of any piece of equipment, make sure it complements the room it will be sitting in your home, whether that be the living room, office space, or designated home gym. 
If you're planning to integrate a home rowing machine into a home without a dedicated fitness space, consider the measurements of the model you're looking at, and figure out where it best fits in your home. 
Choose a spot that will encourage you to exercise – don't plan on sticking your rowing machine in a dark and dingy corner, or if that's your only option, make some changes to the space so it can be a dedicated and motivating fitness area. 
Thankfully with the Hydrow you don't have to question the design. The Hydrow was precisely engineered so that it can be stored upright with the upright storage kit so you can save space when it's not in use after your workout.
Don't forget to measure your space and compare it to the dimensions of the rowing machine to ensure they're compatible – remember that you need to account for your body on the machine as well, so choose a space that has a space larger than just the dimensions of the machine (you don't want your elbows to hit the wall during your row!)
Whether you're new to rowing or you've been rowing all your life, it's safe to say that support is important regardless of your fitness level. And rowing, in particular, is a team sport at its core. So, you might question "how do I get the support of a team when I'm rowing at home?"  Well, with Hydrow you get more than just a sweat. You get the support of the Hydrow community to keep you accountable and push you to reach your goals. You'll find motivation and guidance from your Hydrow Athlete as well as the strength and support from your teammates through the digital community with features like the leaderboard and feed.
Regular Exercise is an Investment in Your Health
The more you think of your purchase of a home rowing machine as an investment in your health, the more thoroughly you'll research your buying decision, making sure that the product you decide on is the best one for you. 
With any fitness regimen, you get out of it what you put into it. Even a top of the line rowing machine won't benefit you if you don't use it. Make sure that the machine you decide on is not only top quality and the right size for your home, but that it has all of the features that you have learned to enjoy about other rowing machines. Home rowing machines have come a long way, and once you research the features that are important to you, we're confident you'll be able to find an indoor rower that will provide you with everything you need to incorporate rowing into your life on a regular basis.
To maximize the well-being you'll achieve with your health investment, combine regular exercise with a healthy eating plan that fuels and energizes your body. You'll find that the better you eat, the better you'll feel, and more energy will inspire you to maintain your exercise regimen and encourage you to reach your fitness goals, making a rowing machine one of the best home purchases you've ever made.