Meet the Crew: Laine Maher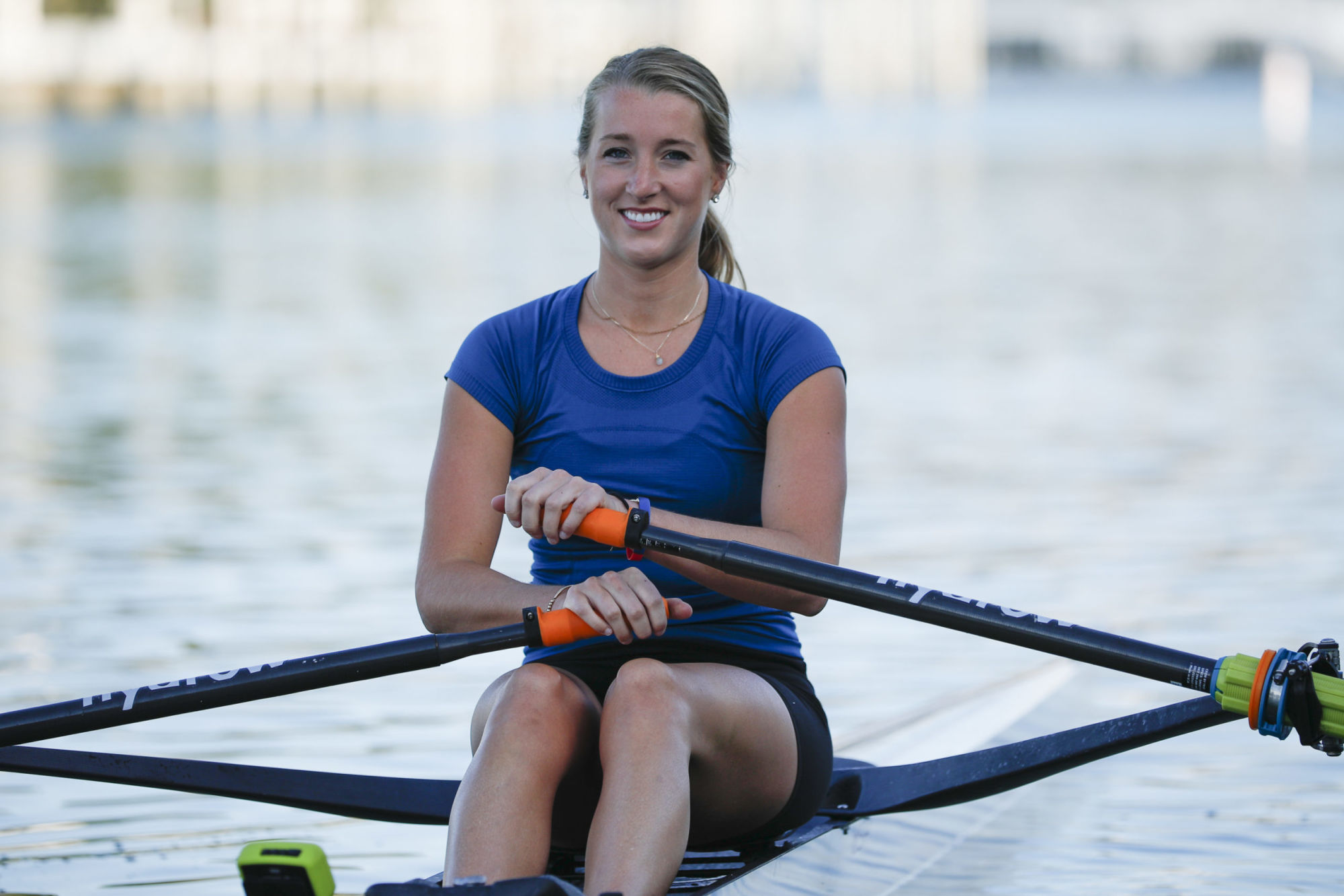 Welcome to another episode of Meet the Crew! This week, we're highlighting Hydrow's newest Athlete, Laine Maher.
What was your path to choosing rowing?
Laine: I grew up in a very athletic family. Everyone played sports at the collegiate or professional level, so fitness has been a huge part of my life from the beginning. I love being a member of a team and I love competing, so I was always involved in sports.
I came across a flier for rowing back in the eighth grade, gave it a shot and was instantly hooked. As much as I wanted to continue with multiple sports, particularly field hockey, I was super motivated to be recruited by a Division I rowing program. With that goal on the horizon, I dedicated my time solely to rowing and performing at my peak, and worked very hard to earn my spot on the University of Wisconsin Women's Rowing team.
What has been your proudest rowing moment to date?
Laine: My favorite racing moment probably was beating Michigan at Big 10s by 0.3 seconds. It was a particularly competitive spread that year and we were the underdogs of the race. We were neck-and-neck the entire time, but one final all-out sprint propelled us over the line just ahead of them. Taking the win with our final burst was the most electric feeling.
How would you describe your training style?
Laine: I would say that my training style is all about efficiency and purpose. We all have off days and we all feel burnt out from time to time, so my workouts aim to motivate you to get the job done. I want you to work hard and maintain an active lifestyle, while getting the most out of the time that you put into it.
During my time in the corporate world, working out was my release, and I know that that's the case for a lot of our users at home, too. So, whether you are in it for 10, 15, or 20 minutes, you are making the purposeful decision to give it all you have and prepare yourself for the next challenge of the day.
What's your favorite part about being a Hydrow Athlete?
Laine: My favorite part is being able to be in a position to share my passion for working out, while being surrounded by such incredible people. Our Hydrow team is amazing, and I feel very lucky to be working with and learning from these accomplished athletes. It's truly inspiring to be at this company during such a time of rapid growth, and I'm really looking forward to what's coming next!
What kinds of fitness activities do you enjoy outside of rowing?
Laine: I absolutely love being outdoors. Mountain biking, skiing, hiking, running, climbing — you name it, I'm in. But if I'm not on the water for my workout, I go to the gym. I'm one of those people that genuinely enjoys working out. In my opinion, there is no better feeling than a hard workout and a good sweat.
What item would you not be able to live without on a desert island? Why?
Laine: Maybe a speed boat, so that I can tour around, explore some other islands… and then get back home.
What would you like to learn about our Hydrow Athletes? Tweet your questions at @Hydrow_by_CREW using #AskTeamHydrow.